Looking to bounce back from defeat, Farnborough welcome Weston-Super-Mare to Paddy Power Park for what is their first home game of the new season.
The Yellows lost 2-0 at Boreham Wood in the league opener on Saturday but were unlucky not to have scored in a much improved second half.
Following the Boreham Wood game, Manager Spencer Day said, "We get a couple of people back, we were bare bones today (against Boreham Wood). I get criticised for not filling the bench, there's no point just bringing in people when I know I've got players coming through – we didn't have Page and Bennett today, they'll be available. We're waiting for an international clearance; we had a couple of injuries today so we should be stronger on Monday."
"[We will] Certainly almost back to full strength I hope by this time next week. It's a home game in front of our fans, I thought the travelling fans today did a good job trying to lift us, particularly in that 20-25 minute period in the second half where we were bright and we really pinned the home side back [although] we've got to score in that period.
"We've got to take the positives that we've had a decent pre-season but this is the Conference South, it's a tough division and it was a hard lesson and as I said, when you're one down with an absolute wonderstrike in the first 60 seconds it just shows you how tough it can be. We'll move on, take those positives and fingers crossed we can get a good result in our first home game in front of our own fans."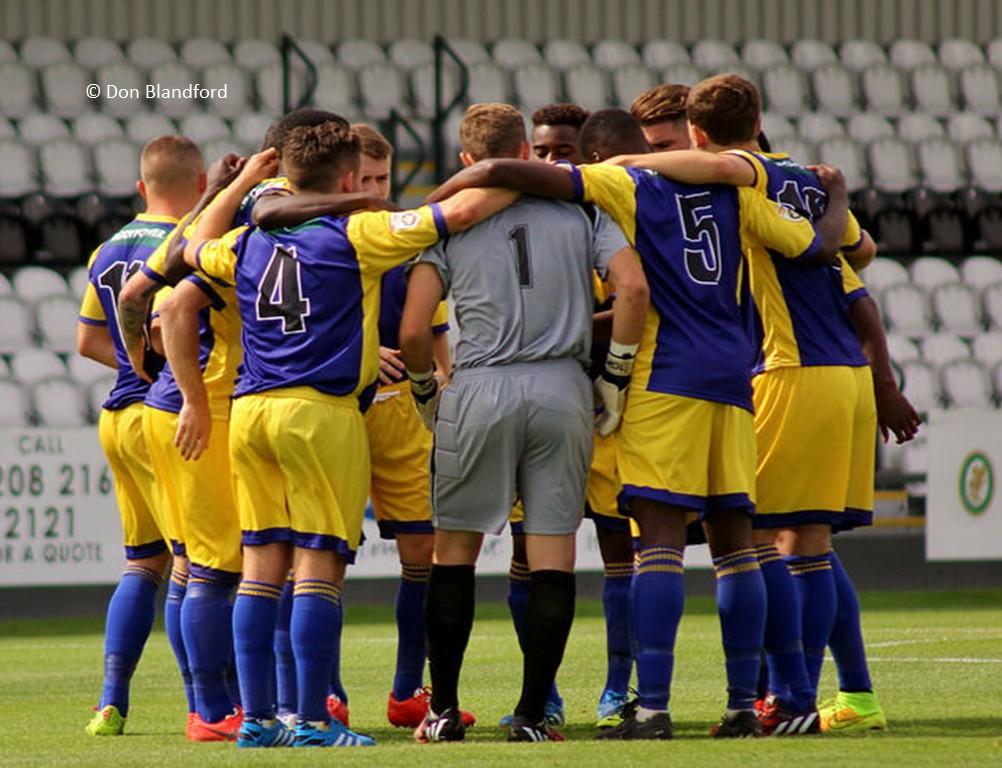 Visitors Weston-Super-Mare finished last season in the top half of the table in 11th place and are managed by first team coach Micky Bell.
On Saturday the Seagulls lost their opening fixture 1-0 at home to Bishop's Stortford, with Ryan Melaugh scoring the only goal of the game in what was a cruel end to the game for tomorrow's visitors.
Experienced summer signing Tom Jordan has been named the Seagulls' Club Captain
Weston-Super-Mare from: Luke Purnell (gk), Conor O'Sullivan,  Jake Llewellyn, Jake Mawford, Tom Jordan, Oliver Barnes, Joe McClenan, Bradley Ash, Jacob Can, Dayle Grub, Alec Fiddes, Liam Dempse, Matthew Thorne, Jake Harris, Syd Camper and Jamie Lucas.
Date: Monday 11 August 2014
Competition: Vanarama Conference South League Fixture
Venue: Farnborough FC, Paddy Power Park, Cherrywood Road, Farnborough, Hampshire, GU14 8UD.
Kick off at Paddy Power Park is at 7.45pm and admission prices are:
Adults £12
Concessions £8
Under 16′s £3
Under 6′s FREE
Official Match Day Programme (Boro View) £2
Car Park £2
Don't forget:
The Bar will be open from 4pm and Farneys Cafe will be open at least 2 hours before kick off.
Boro View will be on sale inside the ground priced at just £2, featuring an exclusive interview with young defender Darryl Siaw.
---
Keep up to date with your club on Social Media: